Suction-Evacuation Access Sheath for Single Use
Product Detail
Product Tags
•Solve the problems of uric stone move and backflow completely, Under the negative pressure, it can avoid the stone's backflow, prevent the stone's move and remove the stone out effectively.
•Reduce the high-pressure of renal pelvis effectively, Contin- uous irrigation meanwhile suction, it can form an uninterrupted fluid circulation to reduce the high-pressure of the renal pelvis effectively.
•It can prevent bleeding to keep a clear vision during the operation procedure. Under the continuous irrigation and suction, it can clean the pus, blood clot and gravel out, keep the operation performed with a clear vision, ensure the operation's safety, and shorten the operation's time.
•Expand the stricture of ureteral access effectively to ensure the operation performed smoothly, The design of the tapered dilator with AQ hydrophilic coated can expand the stricture of ureteral access effectively.
•The sheath and dilator tip are AQ hydrophilic coated. The hydrophilic coating thickness of this product is only 0.03mm. The COF is the average of 0.050 by repeated frithion testing. The effect is far more than the similar products.
•The negative pressure suction passage can be connected with a negative pressure suction device air pipe or an integrated pipe ventilation pipe.
•Silicone sealing plug, easy to operate.
•It is simple and convenient to assemble the joint of Sheath tube and joint of expansion tube together.
•Negative pressure regulating hole, effectively adjust suction pressure.
•The tube body is marked with scales, the color is clear and distinguishable. It can help the doctor to judge the distance between the sheath and the urethra in a more directly and convenient way.
•The surface of the tube body is covered with AQ hydrophilic coating, which is smooth, friction is small, the average value of friction force COF is 0.050, and it is easy to expand the lumen through the narrow segment, reduce injury and painless.
•Connect with the expansion tube smoothly.
•The sheath tip is smooth to avoid urethral injury.
•The tip of dilator are AQ hydrophilic coated. The design is taper tip. It can expand gradually through friction and extrusion to form a more complete and regular surgical channels, easy to operate the flexible ureteroscope, protect ureter during repeated instrument exchanges during ureteroscopy.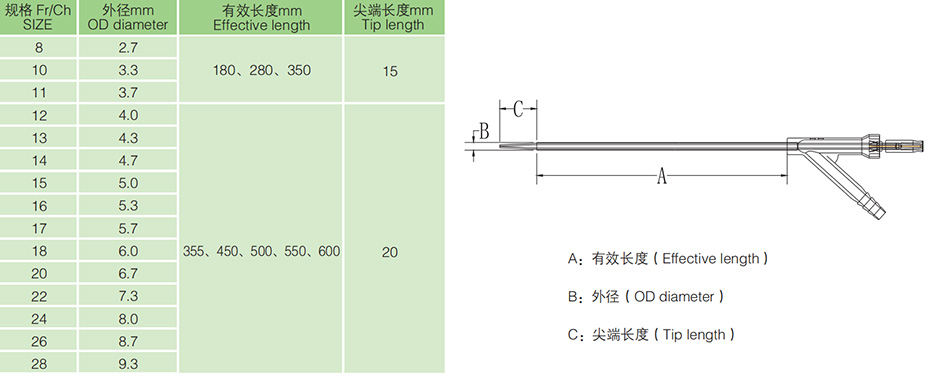 ---
Previous:
Suction Catheter
Next:
Silicone Stomach Tube
---