Product Detail
Product Tags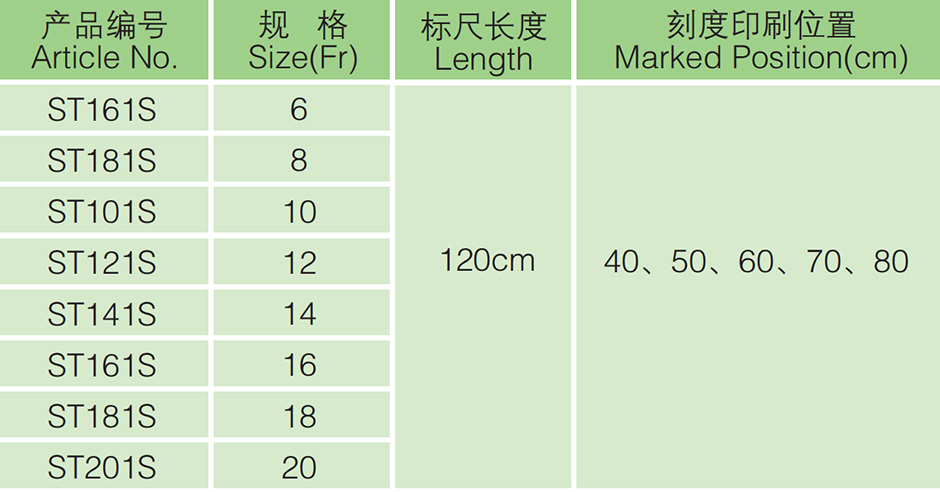 Packing: 10 pcs/box, 200 pcs/carton
KANGYUAN disposable silicone stomach tube is made of medical silicone rubber with advanced technology, the surface of the product is smooth, non-toxic and non-irritating with scale and X-ray development line, the product is sterilized by ethylene oxide sterile packaging, for disposable use, safe and convenient to use, multiple specifications for selection 
This product is mainly composed of pipeline, connector (with plug), tip (guide head) and other components (see figure 1). Pipeline round, smooth, transparent; Good connection strength between components; The effluent flow meets the standard requirements; The products have good biocompatibility and sterility. EO residue shall not be greater than 4mg。

Figure 1: schematic diagram of standard gastric tube structure 
This product is mainly used for gastric lavage, nutrient solution perfusion and gastric decompression during operation in medical units. 
1. Remove the product from the dialysis package to prevent contamination.
2. Insert the tube into the duodenum slowly.
3. Then the instruments such as the liquid feeder, drainage device or aspirator are connected with the gastric tube joint reliably.
1. Severe esophageal varicose veins, erosive gastritis, nasal obstruction, stricture or obstruction of the esophagus or cardia.
2. Severe dyspnea.
1. As the body moves, the catheter will be twisted, which may cause blockage of the pipe. When fixing, pay attention to the length of the catheter and leave some room。
2. When the product is placed in the body for a long time, the longest retention time shall not exceed 30 days.
3 .Please check before use. If single (packed) product is found to have the following conditions, it is strictly prohibited to use:
a) The expiration date of sterilization is invalid.
b)  The single package of the product is damaged, contaminated or has foreign matter.
4. This product is ethylene oxide sterilization, sterilization period of 3 years。
5. This product is limited to one-time use, operated by medical personnel, and destroyed after use.
[Storage]
Store in a cool, dark and dry place, the temperature should not higher than 40℃, without corrosive gas and good ventilation. 
[Date of manufacture] See inner packing label
[expiry date] See inner packing label
[Registered person]
Manufacturer: HAIYAN KANGYUAN MEDICAL INSTRUMENT CO., LTD
---
---